When it comes to Dubstep, it doesn't get much better then Rusko. Also, if you enjoy electro then you have to check out the live set by Sanchez & The Shockers. After just hearing a half dozen unrealeased tracks this past weekend, I can tell you they are poised for greatness. enjoy.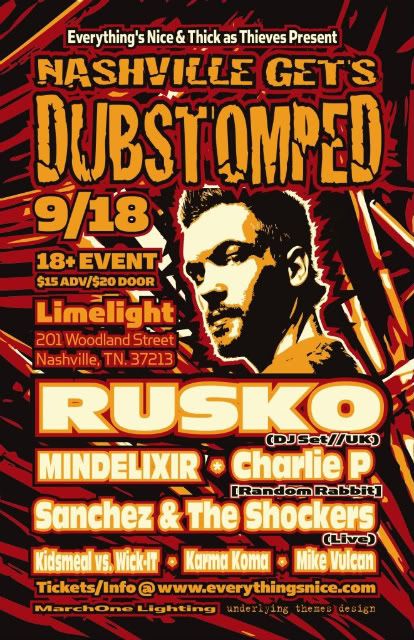 Everythings Nice and Thick as Thieves present "Nashville gets Dubstomped" !! An evening of dubstep, electro, and hip-hop featuring local, regional, and intercontinental talent ready to wreck your dome and dubstomp your step.
Dubstomped will feature a Live Art setup sidestage and outside. There will also be firedancers, permits permitting.

RUSKO:

After graduating from Leeds university with a degree in musical performance, Rusko discovered the world of dubstep through SUB DUB and a debut appearance from the "Digital Mystikz", having spent the past 10 years making future dub alongside Leeds very own Iration Steppas, Rusko connected with the sound and moved down to London to further advance his musical opportunities with Sub Soldiers label mate Caspa.

Veering away from the dark, serious side of the sound Rusko bought a highly driven energy and fun approach to the dubstep massive and quickly coined his own take on the genre and turned the scene upside down. His sound appealed to many people outside of the dubstep world as his productions became more adventurous in formula, sound and energy. His huge hit "Cockney Thug" has been played by everyone from Pete Tong, Switch, Diplo and Santogold. And has been remixed by Buraka Som sistema, Diplo, Drop the Lime and the Scratch Perverts.

His sound continues to develop with different BPM's that lean to jungle, house, hip hop or electro, either way, whatever BPM or tempo…you can immediately tell a Rusko track.

At 23 Rusko is only in 1st gear, with collaborations on the table with the likes of Switch, Diplo , Yo Majesty and Wiley the future sure is looking bright. Already setting the radio airwaves alight with his own productions and remixes of artists such as Adele, A-Trak featuring Kid Sister, Leon Jean-Marie Rusko is only going in one direction. Onwards, upwards and far beyond any producer could dream of. Rusko is like Dr Dre, Timbaland and Switch all rolled into one with a serious overdose of bass.
0 comments to "Rusko Live in Nashville on Friday Sept. 18th"

Moderator
music, tech, life...
View my complete profile

Recent Tweets

Blog Archive

Blogs to Check